Our home insurance guide for Kelowna gives you an idea of how much home insurance premiums in British Columbia cost. You will also learn about how to save on home insurance, along with a number of other very useful tips for choosing your home insurance protection in BC.
What are typical Home Insurance premiums in Kelowna?
The chart shows average renter's and homeowners insurance premiums in British Columbia. The reason why renter's insurance rates are cheaper than homeowner's premiums is because only the contents of the renter's unit are covered (and sometimes liability). For homeowners, the building, contents, liability and some aspects of the property (such as outbuildings, and garages) are covered.
Home insurance in British Columbia is more costly than in many other provinces for the following reasons:
Earthquakes: Areas of British Columbia are prone to seismic activity. Riders for earthquake protection provide peace of mind. This extra protection is important for British Columbia residents, especially ones on the coast.
High rebuilding costs: Since homeowners insurance covers the rebuilding cost of the dwelling, and real estate prices in British Columbia are higher than most other parts of Canada, premiums for homeowner's insurance are higher too. The fact that these houses sometimes require extra support due to seismic activity also increases the premium.
How to save on Home Insurance in Kelowna
Annual payments: Annual payments mean the insurer has less paperwork and administration on your account, so they reward you with lower premiums.
Pipes: Copper or plastic plumbing results in lower premiums than the much riskier galvanized or lead options.
Avoid oil-based heating equipment: Due to the fire risk, homes with oil or wood heating sources cost more to insure than those with gas or electric furnaces.
Fire station proximity: Many insurers offer a discount if you are located close to a hydrant or fire station.
Swimming pool: Pools greatly increase your risk from both a property and liability standpoint. Expect higher premiums if you own a pool.
Smoking: Smoking is a fire risk. Not only do smokers have higher premiums for life insurance, they have higher premiums for home insurance as well.
Liability:Use common sense to reduce your liability risk by doing things like fencing off your pool, having your aggressive dog leashed, and keeping your walkways clean of snow and ice.
Anti-theft protection: Some insurers offer a discount if you have a home alarm system in place.
Stability:Some insurers offer a discount if you have lived in the same residence for a number of years.
5 Elements that will increase your Home Insurance costs
Older home: Expect to pay higher premiums if your home has not been upgraded. Old roofs and outdated wiring, for example, can cost you extra.
Roof type: Wood and shingle roofs cost more to insure than more durable roofs.
Oil heaters: It is difficult to obtain insurance if your home is heated by oil, and if you do get a policy, it will be very expensive. You will pay less in premiums if you have an electric or gas furnace.
Basement: Finished basements mean more damage if you experience a pipe burst or overland flooding. Even though a finished basement can add value to the home, they drive up your insurance premiums.
Expensive items: Contents insurance has maximums. You may need a separate rider for expensive items, such as sporting equipment, musical instruments, jewellery, watches, art, and wine collections.
Kelowna Home insurance quotes, examples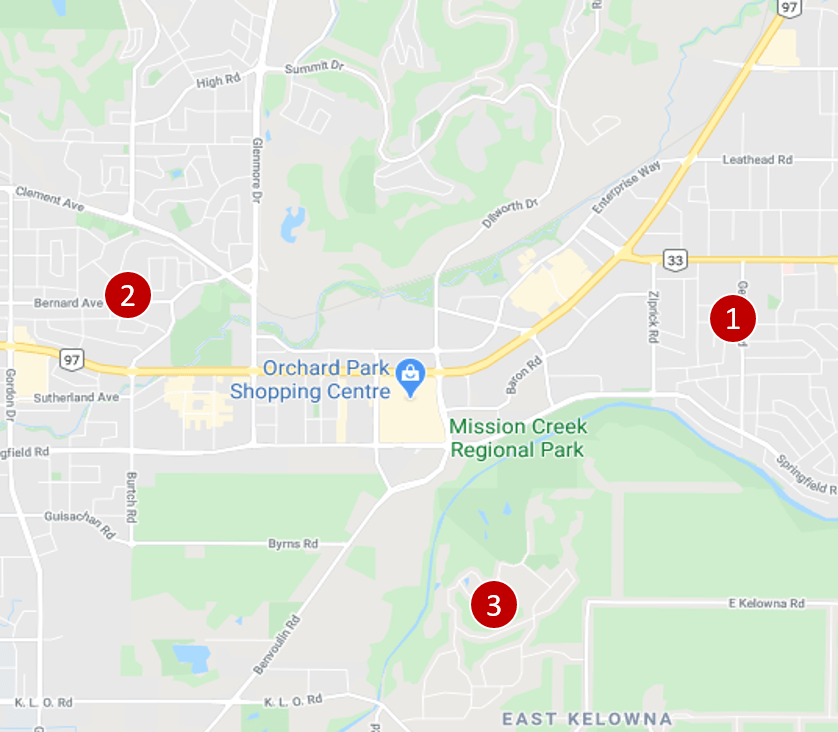 Kelowna home insurance quote #1:
Homeowners insurance for a 2-storey, 1,500 square foot house with an attached garage for 1 car. Property is located on Tataryn Rd.
Monthly costs: $64 / month
Kelowna home insurance quote #2:
Tenant insurance for a 1-storey house without a garage located at Elm St. nearby Parkinson Recreation Park and within 5 km to a fire hall. This property has no basement.
Monthly costs: $28 / month
Kelowna home insurance quote #3: Homeowners insurance for a 2-storey detached house with an attached 2 car garage. Property also features a brick façade and a pool. It is located in east Kelowna.
Monthly costs: $67 / month
5 Home Insurance myths to know
Myth #1: Home insurance is mandatory
Your bank may require insurance if they hold your mortgage, and your landlord may require you to have tenant's insurance, but outside of that, home insurance is not a mandatory government requirement. That being said, few homeowners can afford to rebuild their home after a disaster, or even afford the cost of a flooded basement, so homeowners insurance is always strongly recommended.
Myth #2: Flooding is covered
Most policies have coverage for in-home incidents like a burst pipe, but few automatically cover major, or overland, flooding. Heavy rains leading to overflowing rivers or fast snow melt leading to water entry in the home are examples of overland flooding. Before 2015, flood insurance wasn't available in Canada, leaving homeowners dependent on government disaster relief programs. Today, however, overland flooding protection is offered by some insurance companies as an optional rider.
Myth #3: Earthquakes are covered
Chances are, you need to purchase a separate rider for earthquake coverage. This is very important for regions of high seismic activity like British Columbia and Quebec. Very few insurance companies automatically include earthquake coverage, so be sure to ask your broker or agent if you need this important rider.
Myth #4: Claims drive up the cost of insurance
Many insurers allow the first claim to pass without increasing your premium, although they may discontinue your claim-free discount.
Myth #5: Acts of God are not covered
There is no such thing as an Act of God exclusion and apart from overland flooding and earthquakes, most policies cover hail damage, lighting strikes, wildfires, etc.
Home Insurance companies in Kelowna
There are several big P&C (Property and Casualty) / home insurance companies in Kelowna including
Intact Insurance
TD Insurance (owned by TD Bank)
Aviva
RSA Insurance (includes Western Assurance – WA, Canadian Northern Shield Insurance – CNS, and Johnson Insurance)
Economical Insurance (includes Sonnet Insurance)
The Co-Operators
Wawanesa Insurance
The list of mid-size and small property / home insurance companies in Kelowna is quite long as well:
Square One Insurance
Travelers
Gore Mutual Insurance
BCAA
Peace Hills Insurance
Several others
Insurance brokers are also very present in Kelowna and they also offer insurance coverage through an array of insurance companies. Examples of larger insurance brokerages in Kelowna are
Westland Insurance Group
HUB International Insurance Brokers
Western Financial Group
Etc.
Frequently Asked Questions (FAQ): Home Insurance in Kelowna
What does Home Insurance cover in Kelowna?
Home insurance in Kelowna typically covers the following:
Tenant insurance: If you rent the home, your tenant's insurance covers your contents and liability.
Homeowners insurance (condo): Live in a condo? Homeowner's condo coverage is different from single-family home coverage. Your policy covers your unit's contents and associated upgrades, but not the condo building itself). Theft and liability are also covered.
Homeowners insurance (house): Homeowner's insurance for single family dwellings covers liability, the rebuilding cost for the home and a wide range of impacts depending on your riders such as: earthquake, flooding, snow damages, trees, garden, shed, etc
Who has the cheapest Home Insurance in Kelowna?
Since there are many different insurance companies, including ones that specialize in association coverage (such as group discounts for CPA or CAA members), the best way to get the cheapest insurance in Kelowna is to get quotes from a wide variety of insurance companies. Our brokers shop the market on your behalf so you can easily compare all your options.
Home Insurance in Kelowna – Reviews: where to find them?
Since 2012, our proprietary insurance review platform has collected independent consumer reviews for insurance and financial products. Click here for free access to thousands of independent reviews.
Our Publications related to Home Insurance
Home Insurance by Location