This home insurance guide for Red Deer shows you how premiums work here and in Alberta, and will help you save money by explaining how to get discounts and other savings.
What are typical Home Insurance premiums in Red Deer?
This chart shows average renters and homeowners insurance premiums in Red Deer and other parts of Alberta. Renter's rates are lower than homeowner's rates because renter's insurance only covers contents and liability. On the other hand, homeowner's insurance covers the rebuilding cost of the dwelling, liability, and other risk factors.
Albertans pay more for home insurance than many other Canadians because of this province's weather patterns. The floods of 2013 and The Beast Wildfire in Fort McMurray are just two examples of how natural disasters can impact home insurance premiums.
Having a river going through the city means a higher flooding risk, especially in spring (melting snow) and during rainy months. This flooding will impact homes with basements the most, causing a lot of damage to finished basements. Make sure that this risk is covered when searching for a home insurance policy in Red Deer.
How to save on Home Insurance in Red Deer: 10 Tips
Mortgage-free home: Tell your insurer when your home is paid off. They may lower your premium.
Direct insurers: Direct insurers, unlike brokers, only sell policies from one insurance company. Sometimes this can mean a cheaper premium as they are first to know the discounts and other savings available from that brand.
Home Insurance deductibles: Need to free up a little cash in your budget? If you can afford a higher deductible, this will lower your premium.
Bundle: Bundle your home, life, and auto insurance to get a discount.
Repair instead claims: Before you make a claim, ask yourself, is it worth it? Is it more than my deductible? If the solution is an easy or affordable fix, consider repairing before claiming.
Heating: Oil heated homes are risky compared to the more modern forced-air gas or electric furnace options. Insurers charge a higher premium for outdated furnaces.
Wiring: Avoid aluminum and knob and tube wiring. If you are fortunate enough to find an insurer willing to cover a home with outdated wiring like this, you'll need a full electrical inspection and be subject to a higher premium.
Pipes: Copper or plastic pipes are the cheapest to insure; replace galvanized/lead pipes during your next renovation cycle for savings, and to reduce the risk of lead poisoning.
Renovations: Older homes are not always cheaper to insure because they often have roofs with outdated shingles and risky elements like wood stoves. Upgrade items like claddings, plumbing, and HVAC to save on your home insurance.
Interested in more saving tips for home insurance in Red Deer? Get a quote by connecting with an experienced insurance professional who can also share more tips on how to save on home insurance in Red Deer.
5 Elements that will increase your Home Insurance costs
Neglected upgrades: Old shingles, knob and tube wiring, and other outdated elements increase your home insurance.
Finished basement: A finished basement adds value to the home, but also adds to your premium, as it is more expensive to fix after flooding or a fire.
Oil heating: Oil heaters are health and environment hazards. It is cheaper to insure a home with a modern HVAC system.
Swimming pools: A pool means a high liability risk. If you have a pool, fencing it can reduce the risk and the premium (by a small amount).
Aluminum wiring: Aluminium wiring tends to overheat and cause fires, which is why it's not used any more. It is very difficult to get insurance for a home with aluminium wiring. If insurance is offered, it will be expensive and the home must first have a rigorous inspection by a certified electrician.
Red Deer Home Insurance quotes, examples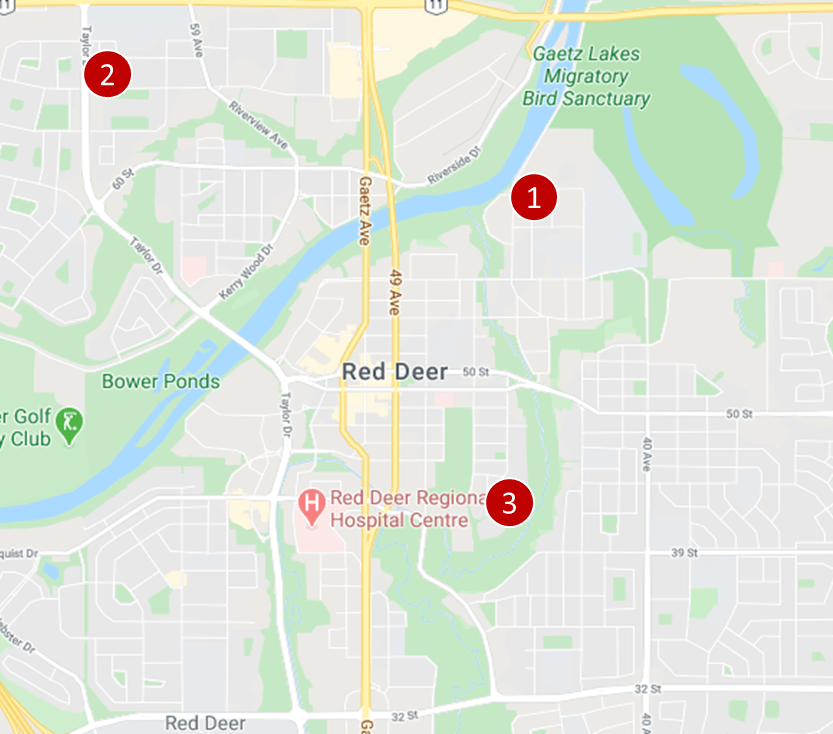 Red Deer home insurance quote #1:
Homeowners insurance for a 1.5-storey detached house (bundling with car insurance), no garage, no basement, under 1,000 sq. feet, new roof, located next to the Red Deer Public School.
Price: $54 per month ($657/year)
Red Deer home insurance quote #2:
Tenant house insurance for duplex, no garage, under 1,000 sq. feet, within 5 km to a fire hall, no basement, located next to the intersection of Tailor Dr and David Thompson Hwy.
Price: $25 per month ($307/year)
Red Deer home insurance quote #3:
Homeowners insurance for a 2-storey detached house, near 2,000 sq. feet, finished basement, located next to Barret Park.
Price: $117 per month ($1,406/year)
5 Home Insurance myths to know
Myth #1: Homeowners Insurance in mandatory
Homeowners insurance in not mandatory if you own the home mortgage-free. Your lender can ask you to insure the home and list them on the policy or your landlord can make renter's insurance a condition of your lease, but unlike auto insurance, if you are not renting or don't have a mortgage, the decision to insure is up to you.
Myth #2: Flooding protection is included
Never assume that all types of flooding are included in your policy. Most cover accidental water release inside the home, like a pipe burst, but few offer overland flooding – when water enters from the outside such as from excessive rain or rapid snow melt.
Before 2015, flooding insurance was not available in Canada. Now a few insurers offer it as part of the policy, and some offer it as a rider. Always check to see if you are covered or need a rider to handle this risk, especially if you need home insurance in Red Deer.
Myth #3: Acts of God are excluded from the policy
There is no such thing as an Act of God exclusion. Your policy likely already covers natural disasters like hailstorms, wildfires, and lightening strikes, and you can get a rider for more geographic-specific risks like earthquakes and landslides.
Myth #4: Home insurance covers the market value of my house
Homeowner's insurance covers the rebuilding cost, not the market value of your house. The rebuilding cost is always lower than the market value because chances are, the home is damaged but the other part of the property – the land it sits on – is not. Your land does not need to be "replaced." However, allowances are made in the policy for the removal of debris after an incident like a fire.
Myth #5 Older homes are cheaper to insure
The opposite is the reality! Older homes that have not been well maintained or upgraded are more expensive to insure due to the likely failure of worn out shingles, risk of fire from oil heaters, old pipes that need to be replaced, etc.
Red Deer insurance companies
Property and casualty home insurers in Red Deer include:
Intact Insurance
TD Insurance (owned by TD Bank)
Aviva
RSA Insurance
Economical Insurance (includes Sonnet Insurance)
Desjardins Insurance
Midsize insurers include:
Square One Insurance
RBC Insurance (as Aviva)
Travelers
Gore Mutual Insurance
CAA
The Co-Operators
Wawanesa Insurance
Several others
You can choose where you prefer to buy homeowner's insurance in Red Deer. It is available through insurance companies, agents, brokers, and even banks. Alumni association and membership groups such as CAA also offer insurance.
Frequently Asked Questions (FAQ): Home Insurance in Red Deer
What does Home Insurance cover in Red Deer ?
Home insurance in Red Deer, Alberta varies depending on the type you need. Here is an overview.
Tenant's insurance only covers your contents and liability.
Homeowner insurance (condo) covers your unit's contents and liability. If you have a storage locker, this is covered too. The condo corporation has separate insurance for their responsibilities, which includes the parking lot and building envelope.
Homeowner insurance (house) covers liability, the rebuilding costs for your property, and some with natural disasters and elements on your land depending on your riders (for example, earthquakes, flooding, snow damages, landslides, trees and garden, outbuildings).
Who has the cheapest Home Insurance in Red Deer ?
Different home insurance companies specialize in different segments of the market. Some insurers are for group members or associations like CAA or CPA. Other insurers specialize in condos or working with seniors, etc. To find the cheapest home insurance in Red Deer, get quotes from a variety of insurers for comparison. Our insurance professionals can help with this as they have access to 30+ Canadian insurers.
Home Insurance in Red Deer – Reviews: where to find them?
We have been collecting insurance reviews from consumers since 2012. To access, for free, thousands of independent reviews, click here now.
Our Publications related to Home Insurance
Home Insurance by Location