This home insurance guide for Windsor, Ontario helps you find affordable home insurance premiums and also contains tips for saving money and maximizing your coverage.
What are typical Home Insurance cost in Windsor, Ontario?
This chart illustrates the average Renters and Homeowners Insurance premiums in Ontario and other provinces including Home Insurance in Windsor. Renters insurance rates are typically lower than home owners premiums due to the nature of insurance: Renters insurance typically covers only the content of your rented property and sometimes liability. It does not cover the building itself since it is covered under the insurance property of the homeowner.
One of the larger topics in the past years that strongly impacted Ontario – was flooding. Meanwhile, the most insurers in Canada cover overland flooding (i.e. flooding where water enters your home from outside e.g. during a flood after rain or melting snow) and thus we suggest checking with your insurer what coverage options are available. This coverage might have different names and is often sold as optional / additional coverage e.g.  overland flooding endorsement or e.g. a bundled water coverage that covers both sewer backup and overland flooding) .
How to save on Home Insurance in Windsor: 10 Tips
Heating: Oil heated homes have outdated furnaces. Save money by upgrading to forced-air gas or electric heat.
Water damage: Past water damage is a big indicator of future problems. Have the house inspector carefully check for any signs of water damage.
Hydrants and fire-station: Some insurers offer a discount if you are located near a hydrant or fire station.
Wiring: Knob & tube and aluminum wiring are considered dangerous fire hazards. It is difficult to find an insurer that will cover this, and if they do, the costs are very high. You'll also need a full home inspection before coverage is offered.
Renovations: Did you know that renovating can actually lower your premiums? When you upgrade to safer options like new shingles and insulated piping, you reduce your home insurance risks.
Compare: Similar insurance can have very different price points depending on the insurer. Use online tools and brokers to quickly and easily compare multiple rates.
Stop smoking: Smoking always equals a higher fire risk – one that you pay for with higher premiums.
Dependent students: If your son or daughter is living in their own apartment while being a student, your insurance may cover their residence at no extra charge. Not all insurers offer this benefit, however, so be sure to ask about it.
Credit score: Good credit? Good premium! Most companies check your credit score to determine your financial risks.
Bundle up: If home and auto insurance are offered, bundle up to get a discount.
5 Elements that will increase your Home Insurance costs
Expensive items: Items like fine jewelry or art collections can be valued higher than the limits of your contents insurance. Ask your insurer if you need a rider for expensive items in your home.
Business property: Work from home? Loss to both business and personal assets increases your risk and your premium.
Roof type: Wood and shake shingles are not as good as metal or long-term shingles. Insurers always prefer the option that reduces risk to the home.
Basement: Flood waters can do a lot of damage to finished basements; insurers guard against this with higher premiums for homes finished on all levels.
Fireplace/woodstove: Wood stoves and fireplaces are a fire and smoke risk, so they increase your premium.
Windsor –  Home Insurance quotes, examples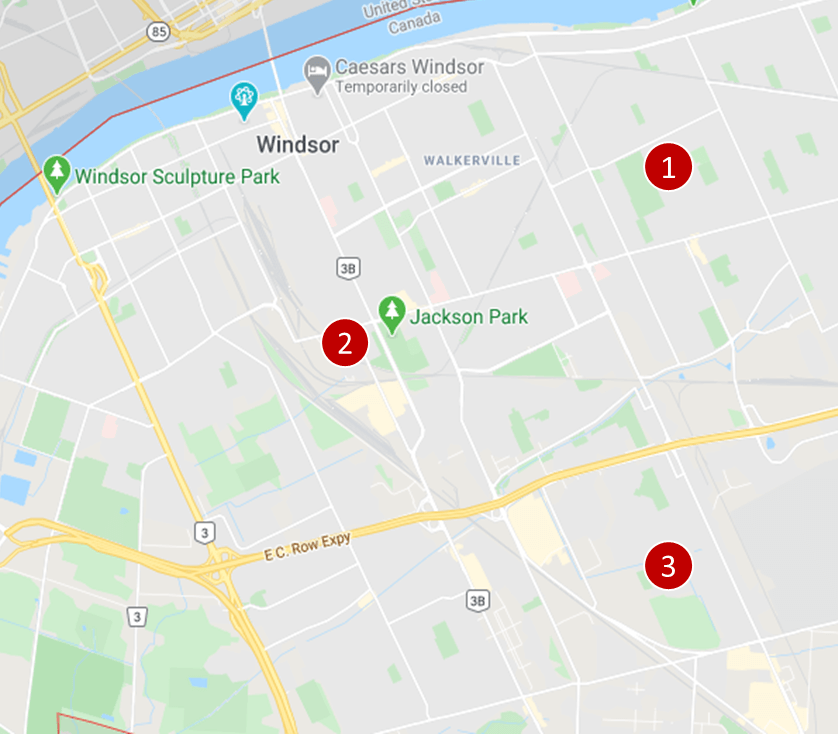 Windsor home insurance quote #1:
Homeowner's insurance for a single storey detached house that is about 1,000 sq. feet. No garage, no basement, vinyl siding. This house is located at East Windsor near the Ford Test Track Park.
Price: $53 per month ($636/year)
Windsor home insurance quote #2:
Tenant home insurance for a 2-storey detached new brick house under 2,000 sq. feet. This house has a built-in garage for 2 cars and is located next to Jackson Park.
Price: $36 per month ($432/year)
Windsor home insurance quote #3:
Homeowner's insurance for a 1.5-storey detached brick house that is about 1,500 sq. feet, a built-in single garage, and a partially finished basement. This home located at Devonshire Heights on Forester Ave.
Price: $58 per month ($696/year)
5 Home Insurance myths to know
Myth #1:  If I am away on vacation, my house is covered
A claim for damages that happened when you were away on vacation may not be successful if you did not have the following precautions in place: shutting off the water supply or having someone run the taps to prevent the pipes from freezing, maintaining/running the heating, and having someone visit the premises as set forth in the policy.
Myth #2: Older homes are cheaper to insure
If the older home is not maintained or upgraded, outdated wiring, old shingles, and faulty plumbing will actually increase your premium.
Myth #3: Every time I make a claim my insurance costs go up
Some insurers have a first-claim forgiveness policy, and some simply remove your claim free discount. Each insurer is different so check your policy to see if and when claims will impact your premium.
Myth #4: My belongings in a rented storage locker are covered
Unless the storage is on the property (such as a storage locker in a condo that is part of your purchased/rented space), you are not covered. In fact, most providers specifically exclude personal items in a rented locker.
Myth #5: Regular wear and tear is covered
Normal wear and tear, like replacing worn out shingles due to the end of their life expectancy, is not covered. Damage from a wind or hailstorm, however, would be.
Frequently Asked Questions (FAQ): Home Insurance in Windsor
What does Home Insurance cover in Windsor, ON?
Home insurance coverage depends on the type of insurance you choose:
Tenant insurance: Covers your personal contents and liability.
Homeowner insurance (condo): Covers the condo unit and associated upgrades (but not the condo building itself), contents (e.g. theft, damage, etc.), and liability.
Homeowner insurance (house): Covers the entire rebuilding costs for your home, and, depending on your riders, a range of natural impacts (e.g. earthquake, flooding, snow damages, trees and garden, etc.), liability, additional structures on your land (e.g. shed, storage space, etc.).
Who has the best Home Insurance in Windsor, ON?
Different home insurance companies specialize on different segments of customers (e.g. seniors, affiliated members of various organizations such as CPA, CAA, etc.), geography, types of buildings, risk types, etc. In order to find the cheapest home insurance, it is important to get a quote from as many insurers as possible and understand what exactly they offer (e.g. level of coverage, deductibles, coverage exclusions, etc.). Our insurance professionals can help you with all these questions.
Home Insurance in Windsor Ontario – Reviews: where to find them?
Our proprietary insurance review platform has been collected independent consumer reviews for different insurance and financial products since 2012 and has thousands of insurance reviews. Click here to access for free all home insurance reviews.
Our Publications related to Home Insurance
Home Insurance by Location