We hope you enjoy this home insurance Surrey guide that shows how to get the cheapest homeowner's insurance rates, and how to avoid things that can affect your policy.
What are typical Home Insurance premiums in Surrey BC?
This chart shows the difference in homeowner's insurance rates in British Columbia and other provinces. Tenant's, also known as renter's, insurance is cheaper than homeowner's insurance because renter's insurance only covers contents and (sometimes) liability. Homeowner's insurance, on the other hand, covers the building and grounds in addition to contents and liability.
Overall, property owners spend more on home insurance in British Columbia because of the following:
Earthquake protection: Earthquake riders are often needed in British Columbia due to the seismic activity in the area, especially along the coast.
High rebuilding costs: Even though homeowner's insurance covers the rebuilding, not the market value, of a home, the expensive real estate in British Columbia means that a lot of homes are more expensive to rebuild. Additionally, homes are often built with extra features such as lateral bracing to help offset earthquake damage. These features add to the rebuilding cost, and therefore increase the home insurance premium.
How to save on Home Insurance in Surrey, BC: 10 Tips
Renovations and upgrades: Older homes that are not maintained and have old shingles and outdated wiring or plumbing are more expensive to insure than newer or upgraded homes. Renovating even just a part of the home, such as the kitchen or heating system, can save you money on home insurance.
Pay annually: Since annual payments take less time and paperwork to process, they are cheaper overall than monthly premium payments.
Avoid Risky heating systems: Forced-air gas and electric heating systems are always less costly to insure than oil or wood-heated homes.
Assess water damage: Before you buy a home, have the inspector check for water damage. Damage is easily hidden in the walls and ceiling, and if it is present, you may have no end of maintenance issues to deal with.
Get an alarm system: A home alarm system can get you a discount with many insurers.
Employee or union member discounts: Some unions, employers, alumni groups, and associations offer discounts on insurance to members.
Comparisons: Premiums vary for similar coverage – it all depends on the insurance company. Take advantage of online tools and talk to a broker so you can compare rates from several home insurance providers.
Business Insurance: If you work from home but don't have a lot of expensive inventory or business assests in your residence, home insurance may be cheaper than business insurance. 
Mortgage insurance: If you have enough life insurance to cover paying out a mortgage, consider dropping your mortgage insurance. Mortgage insurance is basically life/critical illness and disability insurance that pays off the balance of your mortgage debt. However, you'll pay the same premium as your mortgage costs go down, meaning you'll overpay for mortgage insurance in the long run. Also, it's not portable. If you switch banks when you renew, you must get new mortgage insurance. Life insurance is often the easier and cheaper way to cover mortgage debt.
Reconsider making a claim: Will your claim be more than your deductible, and will it force you to pay a higher premium? Before you make a claim, weight it against the cost of repairing the issue, if it is not a serious one (like a flood or fire).
5 Elements that will increase your Home Insurance costs 
Roof type: The more durable your shingles, the lower your home insurance costs. Lifetime shingles are less risky than wood shingles.
Building frame: Wood frame homes are more likely to be structurally damaged in a fire, therefore wood frame homes cost more to insure.
Basement: Finished basements are nice but cost more to insure because they cost more to fix after a flood or other incident.
Garden and trees: The more elements on your property, the more it costs to repair/replace them. Lush gardens and mature trees can cost you extra.
Expensive items: Items like heirloom jewelry, art collections, wine collections, musical instruments and sporting equipment can be above the coverage limit of your insurance. If you have special/costly items in the home, you may need a separate rider to insure them.
Surrey, BC –  Home insurance quotes, examples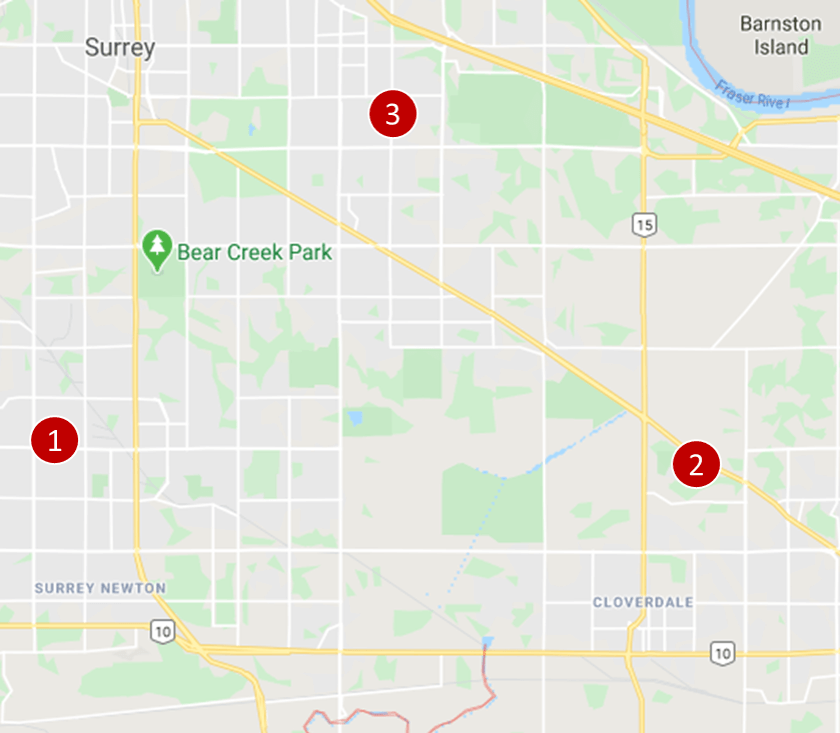 Surrey home insurance quote #1:
Homeowners insurance for a 2-storey detached house with an attached garage for 1 car, no basement, nearly 1,500 sq. feet, located nearby Princess Margaret Secondary School.
Price: $68 per month ($816/year)
Surrey home insurance quote #2:
Tenant house insurance for a 2.5-storey detached house, a built-in garage for 1 car, a finished basement, under 2,000 sq. feet, located next to North Creek Park.
Price: $31 per month ($372/year)
Surrey home insurance quote #3:
Homeowners insurance for a 2-storey detached house, located nearby Briarwood Park, over 2,000 sq. feet, no garage, a new roof.
Price: $76 per month ($912/year)
5 Home Insurance Myths in BC to Know
Myth #1: Home insurance covers earthquakes
Some providers, like Square One Insurance, automatically include earthquake protection in their policies, but most do not. You likely need to purchase a separate earthquake rider.
Myth #2: You must have home insurance
Home insurance is not mandatory – that is, if you own the home mortgage free. A lender has every right to ask you to purchase homeowner's insurance to protect their interests, and a landlord can ask you to purchase tenant's insurance to reduce the risk of theft and liability.
Myth #3: Damage from natural disasters or Acts of God are not covered by homeowner's insurance
Most policies cover hail damage, lighting strikes, and other natural disasters, and riders are available for larger issues such as earthquakes and landslides. Contrary to popular belief, the "Act of God" clause does not exist.
Myth #4: I am automatically protected against sewer backup
Since sewer backup damage occurs when the town/municipality/city's sewer system cannot handle the water volume, sewer backup falls into the category of overland flooding (flooding due to issues outside the building envelope). Overland flooding is seldom included in your policy. Overland and/or sewer backup protection typically requires the purchase of separate riders.
Myth #5: If I am away on vacation, my house is covered
Do not assume that you are covered if you are away from the home for an extended period of time. Check your policy; it describes what is necessary for coverage to remain in place during your absence. You maybe be required to shut off the water supply and empty the pipes, ensure the heating cycle is maintained, and have someone check the home at predetermined intervals. Each insurer has different policies on this, so be sure to check what yours says before you leave for that vacation or business trip.
Frequently Asked Questions (FAQ): Home Insurance in Surrey 
What does Home Insurance cover in Surrey, BC?
Home insurance coverage in Surrey, BC, and across Canada, depends on the type of insurance you choose. Here is an overview.
Tenant insurance: Covers your personal contents and liability.
Homeowner insurance (condo): Covers your condo unit, contents, liability, and upgrades. The building envelope and common areas are covered by the condo corporation.
Homeowner insurance (house): Covers the rebuilding cost of your home, contents, liability, some elements on your property, and – with riders – some severe natural disasters like overland flooding and earthquakes.
Who has the cheapest Home Insurance in Surrey, BC?"
Different home insurance companies specialize in different segments of customers. For example, some insurers work primarily with seniors, membership groups, specific geographic regions, types of buildings, risk types, etc. In order to find the cheapest home insurance, you should get a quote from as many insurers as possible and understand what exactly they offer in terms of coverage, exclusions, etc. Our insurance professionals can help you find quotes and answer your questions.
Home Insurance in Surrey, BC – Reviews: where to find them?
Our proprietary insurance review platform has been collecting independent consumer reviews for different insurance and financial products since 2012. Click here for free access to thousands of insurance reviews.
Our Publications related to Home Insurance
Home Insurance by Location