Our home insurance guide for Medicine Hat discusses savings, insurance rates, and more so you can make an informed decision about the protection you need.
What Are Typical Home Insurance Premiums In Medicine Hat?
Renter's and homeowner's insurance premiums for locations around Alberta, including home insurance in Medicine Hat, are shown above. The reason why renter's insurance is typically lower than homeowner's insurance is because renter's insurance covers contents (and, if specified, liability). Homeowners require insurance on the physical structure of the home and the property, on top of contents and liability.
Home insurance in Alberta is relatively high. Premiums have risen over the years due to impact conditions such as overland flooding and wildfires. Examples of this were seen in the floods experienced in Southern Alberta in 2013, and The Beast fire in Fort McMurray. Due to years of flooding, some insurers now offer overland flooding coverage as a rider or separate policy. Check with your insurance provider to see if they offer this coverage.
Cheap Home Insurance in Medicine Hat: 10 Tips
Pipes: Galvanized and lead pipes are a hazard compared to the much safer copper or plastic alternatives. It costs more to insure risky piping.
Annual vs monthly payments: Annual payments cost less to process than monthly payments, so you if you pay annually you can get a lower premium.
Close proximity to fire hydrants and fire stations: Some insurers will give you a discount if your home is close to a hydrant or fire station.
Loyalty: Some insurers, such as Desjardins Insurance, offer discounts for long-term customers.
Stop smoking: If you smoke, you increase your risk of a house fire – and your insurer increases your premium accordingly.
Upgrade the furnace: Oil-heated homes are considered a big insurance risk. Forced-air gas and electric HVAC systems are cheaper to insure
Avoid wood stoves: In order to insure a home with a wood stove, you will likely need an inspection – and even if the stove is in good working order, the fire risk means a higher premium.
Annual review: Your insurance risks change year to year. Review annually to see if there is coverage you no longer need.
Bundle up: You can get a bundle discount if you put your home, auto, and life insurance with the same provider.
Do you need business insurance: Work from home? Unless you have expensive assets in the home for your family or your business, you may be better off with just home insurance. Compare home vs business insurance and make an informed choice.
5 elements that will Increase your Home Insurance Costs
Swimming pools: Pools, especially when unfenced, are a huge risk for insurers. The presence of a pool increases your premium.
Forgoing upgrades: Old roofs, decks, and other items that are deteriorating can increase your premium. Keep on top of maintenance and upgrades.
Oil-based heating: It is difficult for homeowners with oil heaters to get insurance and if they do obtain it, it is very expensive. Choose gas or electric instead.
Fireplaces and wood stoves: As pretty as they are, fireplaces and wood stoves are a fire hazard. You may need a home inspection prior to being issued insurance, and your premiums will increase.
Expensive items: Having expensive items like jewellery, art, sporting equipment, fine watches, etc., means huge losses if damaged or stolen. Your contents insurance only covers a certain dollar amount. Obtain separate coverage, or a rider, for the expensive items in your home.
Medicine Hat Home Insurance quotes, examples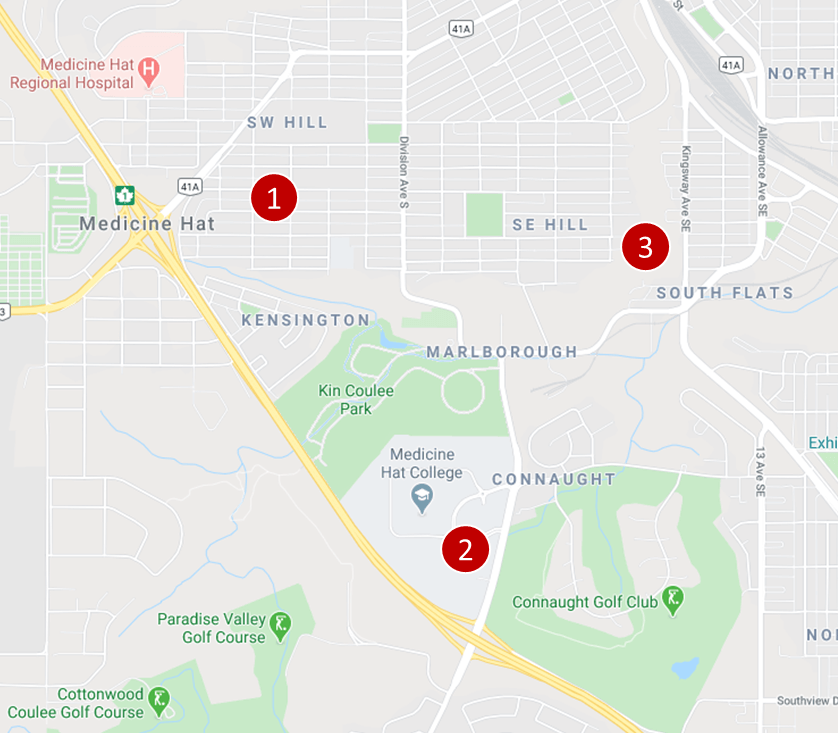 Medicine Hat home insurance quote #1:
Homeowner's house insurance for a 2-bedroom 1-store townhouse located next to intersection of Brier Park Rd and 3rd street.
Price: $82 per month ($984/year)
Medicine Hat home insurance quote #2:
Tenant house insurance for a 1-store detached house (bundling with car insurance), located next to Kin Coulee Park.
Price: $23 per month ($277/year)
Medicine Hat home insurance quote #3:
Homeowner's house insurance for a 1-store detached house located next to Kin Park and Allowance Ave SE, under 1000 sq feet, brick.
Price: $59 per month ($709/year)
5 Home Insurance Myths to Know
Myth #1: My valuables are covered
Standard homeowner's insurance covers contents but only up to a certain limit. Valuables such as jewellery, art, wine collections, and special sports equipment require additional, or separate, coverage. To obtain this coverage, you may need an appraisal of the items.
Myth #2: My insurance includes flooding
Typical homeowner's insurance in Medicine Hat covers sudden or accidental in-home flooding, such as what you get with a burst pipe. Overland flooding (river overflows, excessive snow melt, etc.) is not on all policies and is usually obtained by a separate policy or a rider.
Until 2015 flood insurance was not available in Canada, leaving property owners and renters reliant on disaster relief provided by the government. Now, most insurers offer overland flooding as an optional rider.
Myth #3: Costs increase with each claim
Some insurers don't increase your premium after your first claim, or simply remove the zero claim discount.
Myth #4: "Acts of God" clauses are in effect – natural disasters are not covered
The "Acts of God" clause is a myth. Most polices cover hailstorms, lightning strikes, wildfires, and other disasters, and offer riders for location-specific disasters like overland flooding, landslides, and earthquakes.
Myth #5: Termite and insect damage is automatically covered
This is not normally covered. Review your insurance policy to see if it applies to your coverage, and ask your insurer about separate insect riders if this is a concern in your area.
Home Insurance and Flooding in Medicine Hat
Medicine Hat is in an area prone to flooding. It is vitally important for all homeowners in Medicine Hat to understand how in-home and overland flooding is handled by their insurance carrier.
In areas known to flood, your insurance rates will be higher than average. See the flooding map below for Medicine Hat.
There are four major types of flooding and these are treated differently by your homeowner's insurance policy. Hover over the image below to learn more.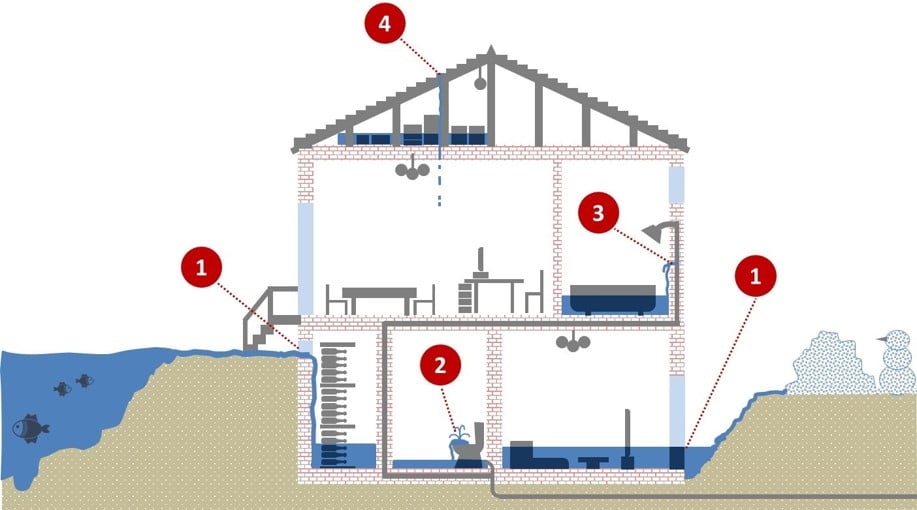 Overland flooding: Water enters the home from the outside due to overflowing bodies of water, excessive rain, melting snow, etc. Overland flooding is not typically covered and requires a separate policy or a rider. Some insurers don't offer this coverage at all. Find out more from the Flood hazard map for Medicine Hat.
Sewer backup: Sewage pushed into your home causes thousands of dollars in damage in addition to being a bio-hazard. Coverage for sewer backup is usually available via a rider, and is well worth the few additional dollars per month that it costs.
Pipe burst: If a pipe bursts in your home, you are usually covered. The exception is, if you were away on vacation or a business trip and failed to have someone check your home as per the absence rules stated in your policy.
Roof leaks: Damage from things like hail are usually covered or can be covered by a separate policy. Damage due to lack of maintenance, however, is not.
Frequently Asked Questions (FAQ): Home Insurance in Medicine Hat
What does Home Insurance cover in Medicine Hat?
What home insurance in Medicine Hat covers is largely dependent on which type of coverage you choose:
Tenant insurance: Covers contents and sometimes includes coverage for liability
Homeowner's condo insurance: Covers the unit, storage locker, contents, and liability, but not the building envelope or common areas, as those are the responsibility of the condo corporation.
Homeowner' insurance (house): Covers the rebuilding value of the property (home, outbuildings, etc.), liability, and protects against some natural disasters. If not already covered, separate or additional coverage can be purchased for overland flooding, earthquakes, landslides, and hail.
Who has the cheapest Home Insurance in Medicine Hat?
There are many home insurance providers in Medicine Hat. Some insurers specialize in coverage for seniors or affiliated groups, while other specialize in insurance for certain types of dwellings such as rural properties or condos. To get the cheapest home insurance in Medicine Hat, use the services of a broker. Brokers compare the market on your behalf and match you with the policy that best suits your needs. Our insurance professionals have access to more than 30 Canadian insurance companies. It does not cost you anything to use the services of a broker as they are compensated by the insurance companies.
Home Insurance in Medicine Hat – Reviews: where to find them?
Our proprietary insurance review platform has been collecting independent consumer reviews for a wide variety of insurance and financial products since 2012. Click here for free access to thousands of insurance reviews.
Our Publications related to Home Insurance
Home Insurance by Location