Home Insurance Winnipeg: Intro
This is the ultimate Home Insurance guide for Winnipeg, where you'll learn how to save on home insurance along with many other useful tips for getting the best coverage for your needs.
What are typical Home Insurance premiums In Winnipeg?
This chart shows average Tenants and Homeowners Insurance premiums in Winnipeg and across the nation. Wondering why renter's (tenant's) insurance is cheaper than homeowner's insurance in Winnipeg? It's due to what is covered by each policy.
Tenants insurance (aka renters insurance) covers contents and liability, but not the building envelope, as that is the responsibility of the landlord.
Homeowners insurance covers numerous risks associated with the property including some (but not all) natural disasters, liability, contents, building envelope, and sometimes (depending on the policy and riders) trees, gardens, and outbuildings.
10 Ideas for how to save on Home Insurance in Winnipeg
Renovations: Renovating takes care of old and risky components like oil based furnaces and old wires. Less risk always means less premiums.
Change the pipes: Old homes can have lead pipes, which are considered a hazard. Change to copper or plastic and you'll reduce your risk, and your premiums.
Upgrade the plumbing: Winnipeg gets very cold in the winter. Insulate your pipes to help prevent them from freezing and bursting. This can lower your premiums and help you avoid a nasty surprise in the dead of winter!
Upgrade the furnace: Insurers frown on oil and wood heated homes. Switch to the safer and more insurance-friendly forced-air gas or electric heat options.
Stop smoking: Smoking in the home is a huge fire risk, and insurers charge you accordingly.
Live close to a hydrant or fire station: Some insurers reward you with lower premiums if you live within close proximity to a fire hydrant or fire station.
Say no to the wood stove: While adding charm to a home, wood stoves are a big fire risk. They increase your premiums and you may require an inspection before insurance is offered.
Check for water damages: Water damage can be easy to hide with a little paint and drywall. Be sure to have a professional inspector check for water damage to prevent mold, pipe bursts, and ongoing issues before you buy a home.
Anti-theft systems: Some insurance companies offer a discount if you have a home alarm system.
Bundle up: Most insurers will give you a bundle discount if you place all your insurance (home, car, life, etc.) with them.
5 Elements that will increase your Home Insurance costs
Pools: Swimming pools increase your liability by quite a lot. If you have one, at the very least install a fence to help lower your extra coverage costs.
Basement: A finished basement is nice to have but are often the first to flood and sustain damaged contents when a burst pipe or overland water entry occurs. Therefore, finished basements increase your insurance costs.
Expensive items: Your contents insurance has maximum limits. If you have expensive items like art, jewellery, wine collections, and specialized musical instruments in the home, you may need a separate rider.
Shingles: Durable shingles like metal may cost more, but they actually lower your premium. Wood and shake shingles cost more to insure.
Working from home: When you have inventory and business equipment in your home, you increase the cost of your contents. This can result in higher premiums.
Winnipeg Home Insurance quotes, examples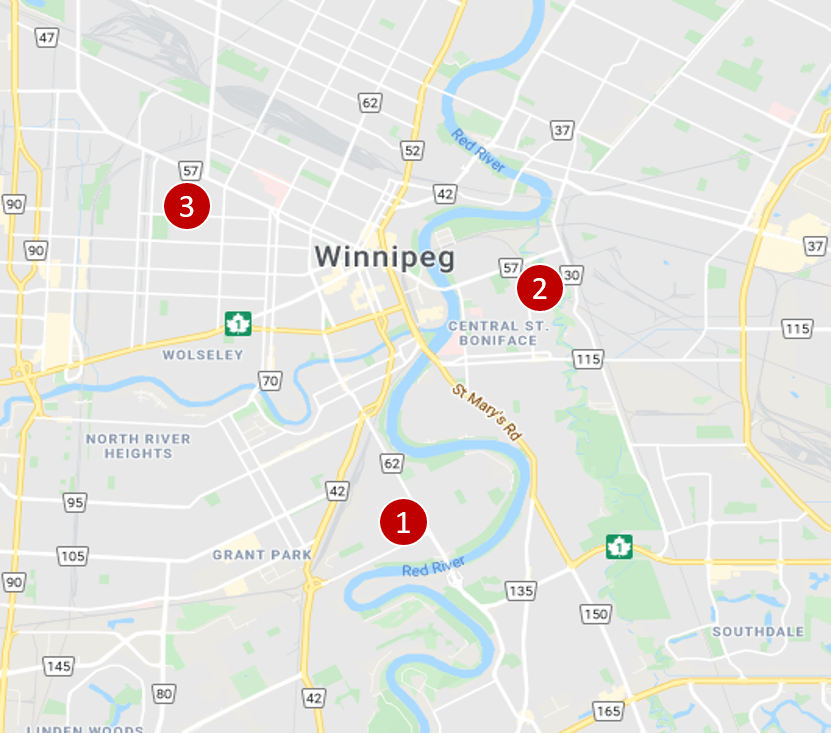 Winnipeg home insurance quote #1:
Homeowners house insurance for a 1-store detached house without basement and garage located on Jubilee Ave:
Price: $62 per month ($744/year)
Winnipeg home insurance quote #2:
Tenant house insurance for a 1-store detached house without basement located nearby Seine River Parkway:
Price: $20 per month ($245/year)
Winnipeg home insurance quote #3:
Owners house insurance for a 2-store detached house without basement located next to intersection of Wellington Ave and Downing street:
Price: $99 per month ($1,190/year)
5 Home Insurance myths to know
Myth #1: Home insurance is mandatory
Car insurance is mandatory, but home insurance is not. The exceptions are, if you have a mortgage the lender will require insurance on the property, and if you rent your landlord may require you to have tenant's insurance.
Myth #2: Home insurance equals market value
Home insurance only covers how much it will cost to rebuild your home, not the market value. Since home insurance covers the property, which often does not need to be "replaced" the value of your home plus the property is the market value – what you can get in a sale. Insurance only rebuilds the home (or outbuilding) to the state it was before the loss. Sometimes extra is allotted for cleaning debris, such as demolition required after a house fire.
Myth #3: Older homes cost less to insure
Older homes have older components and therefore a higher risk of something going wrong or breaking. Newer homes have less maintenance and therefore are cheaper to insure.
Myth #4: Termite and pest damage are covered:
This is not automatically covered. Check with your insurer to see if it is by their specific policy, and if it is not covered, ask if they offer it as a rider.
Myth #5: If a car is stored in a garage, it is covered by the home insurance policy
Your homeowners policy does not include your car. Your auto insurance's comprehensive coverage is what protects your vehicle from damage it sustains inside your garage.
Frequently Asked Questions (FAQ): Home Insurance in Winnipeg 
How much is Home Insurance in Winnipeg?
Home insurance costs in Winnipeg, MB, depend on a variety of factors, including the type of insurance you need:
Tenants insurance is the cheapest form of home insurance in Winnipeg, and costs around $20/month.
Homeowners insurance for an individual house in Winnipeg starts at around $50/month, but can go as high as several hundred per month depending on the size of the home, if it has a finished basement, if it is in a flooding zone, if it has been upgraded, etc.
What does Home Insurance cover in Winnipeg?
Home insurance coverage depends on type of insurance you choose. Here is a quick overview:
Homeowner insurance (condo): Condo coverage includes contents, upgrades in your unit, and liability, but not the building envelope or common areas.
Homeowners insurance (house): Homeowners insurance covers the home and property along with some extras depending on the policy. These can include, or be added via a rider: earthquake coverage, overland flooding, trees and garden, etc.
Tenants insurance: Also known as renters insurance, this typically covers your personal contents and liability.
Who has the cheapest Home Insurance in Winnipeg?
Different home insurance companies specialize in different segments of the population, such as seniors, membership groups, condo dwellers, etc. To get the cheapest home insurance in Winnipeg, get a quote from as many insurers as possible and understand what each policy offers (e.g. level of coverage, deductibles, coverage exclusions, etc.). Our insurance professionals will help you find a policy and answer your questions.
Home Insurance in Winnipeg – Reviews: where to find them?
Our proprietary insurance review platform has been collected independent consumer reviews for different insurance and financial products since 2012 and has thousands of insurance reviews. Click here to access for free all home insurance reviews.
Our Publications related to Home Insurance
Home Insurance by Location