Welcome to your home insurance guide for Victoria, BC. Here you'll find information on how to save on home insurance, and tips on how to find the best policy.
What are typical Home Insurance premiums in Victoria, BC?
The chart shows typical renter's and homeowner's insurance in Victoria, BC and other locations. Are you wondering why renter's insurance is cheaper than homeowner's insurance? Renter's (also known as tenant's) insurance only covers contents and (sometimes) liability. Homeowner's insurance covers rebuilding costs, the property, contents, liability, and other risks as specified in riders.
Home insurance in British Columbia is among the more expensive policies in Canada for the following reasons:
Earthquake protection: Additional coverage is often required for earthquake protection, particularly along the coast.
High rebuilding costs: Even though it's the rebuilding cost, not market value, that is covered by homeowner's insurance, British Columbia has a lot of expensive real estate. It costs more to rebuild in British Columbia than many other provinces. Additionally, many homes have extra features such as lateral bracing for earthquake protection. These features are included in the rebuilding cost.
How to save on Home Insurance – 10 Tips
Annual payments: Annual payments cost less for the insurer to process than monthly payments. Since you are saving them paperwork and admin fees, they reward you with a discount.
Annual review: Your insurance needs change each year. Review annually to prevent over- or under-insurance.
Renovations: Renovating and updating your home, even if it's just the kitchen, roof, or bathrooms, can save you money on home insurance when you upgrade shingles, piping, wiring, etc.
Avoid wood stoves: Wood stoves are a fire risk. You may need a complete home inspection before insurance is offered and even if the inspection passes, the cost of the insurance will still be high.
Galvanized pipes: Galvanized and lead pipes are dangerous. Upgrade your piping to reduce your risk and your premium.
Paid off mortgage: Some insurances, such as RBC Insurance and Co-operators, lower your premiums once your mortgage is paid off.
Business Insurance: Home vs. business insurance – which one is better? If you work from home but do not have substantial business assets on your property, home insurance may be cheaper.
Distance to fire hydrants and fire stations: You may qualify for a discount if your home is close to a hydrant or fire station.
Stop smoking: Smoking is a fire risk, therefore smokers have higher homeowner's insurance premiums.
Bundle: If your insurer also offers car insurance, you may get a discount for bundling up the policies.
5 Elements that will Increase your Home Insurance Costs
Oil heating: It's hard to find an insurer that will cover an oil heated home. If you do find a policy, it will be very expensive. Upgrade the heating system to save money and reduce your personal/environmental risk.
Expensive items: Your contents insurance has a maximum. Items like fine art, wine collections, and sporting or musical equipment could push the value past the maximum. Ask your insurer if you need a separate rider for expensive items.
Old house elements: You may need to renovate old/outdated items like the roof, wiring, or plumbing to save money on home insurance.
Roof type: Wood shake and shingle roofs are not considered as reliable as their metal or longer-term counterparts. The riskier the roof, the higher the premium.
Aluminum wiring: Aluminum wiring was used in houses before 1970 but it is not allowed anymore because it overheats and can cause a fire. To insure a home with aluminum wiring, you need a full electrical inspection. Even if you pass, the policy will be very expensive.
Victoria, British Columbia: Home Insurance quotes, examples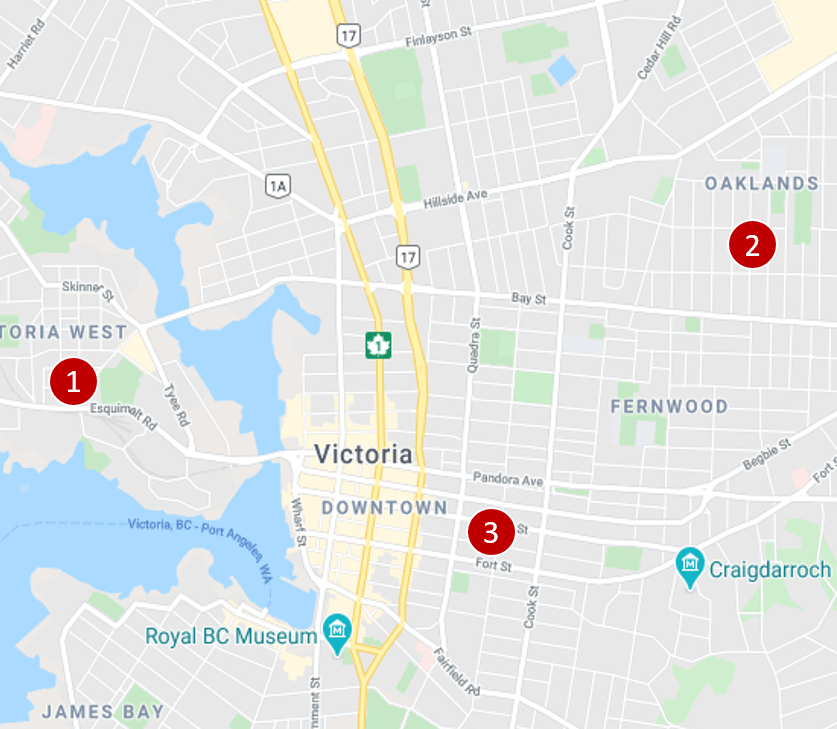 Victoria home insurance quote #1:
Homeowners house insurance for a two-storey detached house located in West Victoria next to Victoria West Elementary School Park, brick, attached garage for one car, under 1,500 sq. feet.
Price: $53 per month ($636/year)
Victoria home insurance quote #2:
Homeowners house insurance for a two-storey detached house located next to Oaklands Park, no garage, new roof, finished basement.
Price $45 per month ($540/year)
Victoria home insurance quote #3:
Tenant's home insurance for a condo unit, building located at downtown, next to View St.
Price: $19 per month ($228/year)
5 Home Insurance myths to know
Myth #1: Home insurance is only for the structure
Home insurance covers the rebuilding cost of the house, the contents, detached structures on the property, living expenses if the home is uninhabitable due to an insured risk such as fire, and personal liability. Riders can be added for additional protection against earthquakes and overland flooding.
For condos, policies cover the unit and improvements to the unit. Some policies cover special assessments made by the condo corporation. Ensure you know what your policy covers. Our overview of condo insurance (including quoting) explains how condo insurance works.
Myth #2: Home insurance pays for required upgrades/maintenance
Regular maintenance is not covered. For example, if your shingles wear out, you must replace them at your cost. What is covered are risks such as roof damage due to hail. Regular wear and tear on homes is not covered.
Myth #3: Home insurance covers earthquakes
Some providers, like Square One Insurance, include earthquake protection in their policies, but most don't. You need an earthquake rider, in most cases, to get this protection.
Myth #4: The older the home, the cheaper the insurance
The opposite is true for older homes that have not been upgraded or maintained. Outdated elements like oil heating and knob and tube wiring increase your premium.
Myth #5: I don't need insurance if I'm a tenant
You need contents insurance, and you need liability insurance in case someone is injured on your property or a pipe burst in your unit causes water damage to your neighbour's unit. Your landlord is not responsible for your contents nor your liability.
Home Insurance companies in Victoria BC
There are several big P&C (Property and Casualty) / home insurance companies in Victoria BC including
Intact Insurance
TD Insurance (owned by TD Bank)
Aviva
RSA Insurance (includes Western Assurance – WA, Canadian Northern Shield Insurance – CNS, and Johnson Insurance)
Economical Insurance (includes Sonnet Insurance)
The Co-Operators
Wawanesa Insurance
The list of mid-size and small property / home insurance companies in Victoria is quite long as well:
Square One Insurance
Travelers
Gore Mutual Insurance
BCAA (CAA British Columbia)
Peace Hills Insurance
Northbridge Financial Corporation
Several others
Insurance brokers in Victoria offer insurance coverage from a variety of insurance companies. Examples of larger insurance brokerages in Victoria include:
Westland Insurance Group
HUB International Insurance Brokers
Western Financial Group
Etc.
Frequently Asked Questions (FAQ): Home Insurance in Victoria
What does Home Insurance cover in Victoria, British Columbia?
Home insurance coverage in Victoria, BC depends on the type of coverage you need:
Tenants insurance:  Covers contents and sometimes liability 
Homeowners condo insurance in Victoria: Covers the unit, storage locker, contents, and liability. The building envelope and common areas are covered separately by the condo corporation.
Homeowners house insurance in Victoria, BC: Covers the rebuilding value of the property (home, outbuildings, etc.), liability, and protects against some natural disasters. Depending on the policy, you may be covered for risks like earthquakes and overland flooding. If not, a rider can be purchased for additional risks of this nature.
Who has the cheapest Home Insurance in Victoria, BC?
Home insurance costs in Victoria, BC vary greatly. Some insurers specialize in working with seniors, some with membership groups, and others in property types like rural farms or downtown condos. To get the cheapest home insurance in Victoria, BC, work with a broker. Brokers compare the market on your behalf and match you with the policy that best suits your needs. Our insurance professionals have access to more than 30 Canadian insurance companies. It's free for you to use a broker, as they are compensated by the insurance companies they represent.
Home Insurance Comparison in Victoria
Our exclusive insurance review platform has collected independent consumer reviews for a wide variety of insurance and financial products since 2012. Click here for free access to thousands of home insurance reviews and to compare home insurers. Getting home insurance quotes (using the quoting button on this page) allows you to compare home insurance rates.
Our Publications related to Home Insurance
Home Insurance by Location