Welcome to our complete home insurance guide for Burlington. This page will provide information about home insurance premiums in Ontario, along with savings opportunities and other tips for choosing the best home insurance protection in Burlington.
What are average Home Insurance cost in Burlington?
As you can see from our chart that illustrates average renters and homeowners insurance in Burlington, across Ontario, and in other provinces, renters pay less than homeowners. This is due to the nature of the insurance. Renters insurance typically only covers contents and (sometimes liability). It doesn't cover the physical dwelling because that would be covered by the landlord. Homeowners insurance covers the dwelling, contents, land, liability, and a number of other natural impacts depending on the riders.
An increasing issue over the past years in Ontario is the impact of flooding. While most insurers in Canada cover overland flooding (defined as water entering your home from outside sources such as after heavy rains or excessive snow melt) we suggest checking with your insurer to see what options are available. Often this coverage is sold as an optional item called a rider. It can have different names such as overland flooding endorsement, and it could also be bundled with coverage that includes sewer backup protection. It is important to learn if you are covered by the main policy or if you require a rider.
How to save on Home Insurance in Burlington: 10 Tips
Renovations: Renovating your house can help lower your home insurance premiums because it costs more to insure older, poorly maintained homes. Even just renovating the basement or kitchen can lead to savings.
Heating: Oil heated homes cost more to insure; forced-air gas or electric heat are preferred by insurers. Remember that when house hunting.
Pipes: Insurers prefer copper or plastic pipes because they are safer and less prone to freezing than galvanized and lead. Lead pipes can be very dangerous for your health. Consider this during your next renovation.
Decrease liability risk: Use common sense to reduce your personal liability risks. Put a fence around your pool. Put your aggressive dog on a leash. Shovel your walkway and keep it clear of snow and ice.
Professional Memberships: Members of professional organization such as Certified Management Accountants of Canada can receive discounts through select insurers. Some insurers, like Meloche Monnex, offer discounts to professional members, and some organizations offer their members insurance policies.
Look around and do your research: There are many insurers and their policy prices vary for similar/same products. Use online tools and talk to several brokers to compare rates. Each broker will have access to a select number of insurance companies.
Dependent students: Students that live in their own apartment but are still dependent could be covered by their parent's insurance policy at no additional charge. This is a benefit that Desjardins provides. Check to see if your insurer offers this benefit too.
Annual vs. monthly payments: Monthly payments generate more administration (time, postage, filing, billing), and therefore more costs. Annual payments save your insurer time and money, which is why you get a discount when you pay annually instead of monthly.
Annual review: Review your policy every year, as your needs may have changed. Adjust your insurance accordingly.
Leverage inflation: A lot of insurers will increase your dwelling limit to account for inflation on the rebuilding costs. Take a good look at the increase to ensure it is not out of line with actual inflation rates, or you'll risk overpaying.
5 Elements that will increase your Home Insurance costs
Business property: Expect to pay higher premiums if your home is also your place of business. This is because your liability increases due to additional people and/or equipment and assets on the property. Your personal contents and your business equipment could be stolen or damaged.
Aluminum wiring: Prior to 1970, aluminum wiring was common. Now it's considered a risk because of its potential to overhead and cause fires. It is more difficult to obtain a home insurance policy for a house with aluminum wiring, and certainly more expensive. In most cases you will be required to have an inspection by a certified electrician.
Old house elements: If the home is not updated and some elements like the roof are at the end of their life cycle, insurance can be more expensive, or not available until a renovation is completed.
Basement: During a pipe burst or flood, water flows down – which is bad news for finished basements. They cost more to repair, and that is why a finished basement can increase your home insurance costs.
Fireplace/woodstove: They make your home cozy but can also be a source of fire and smoke damage. Insurers will add extra premiums and may require a home inspection prior to selling you a policy if you have a fireplace or wood stove.
Burlington – Home Insurance quotes, examples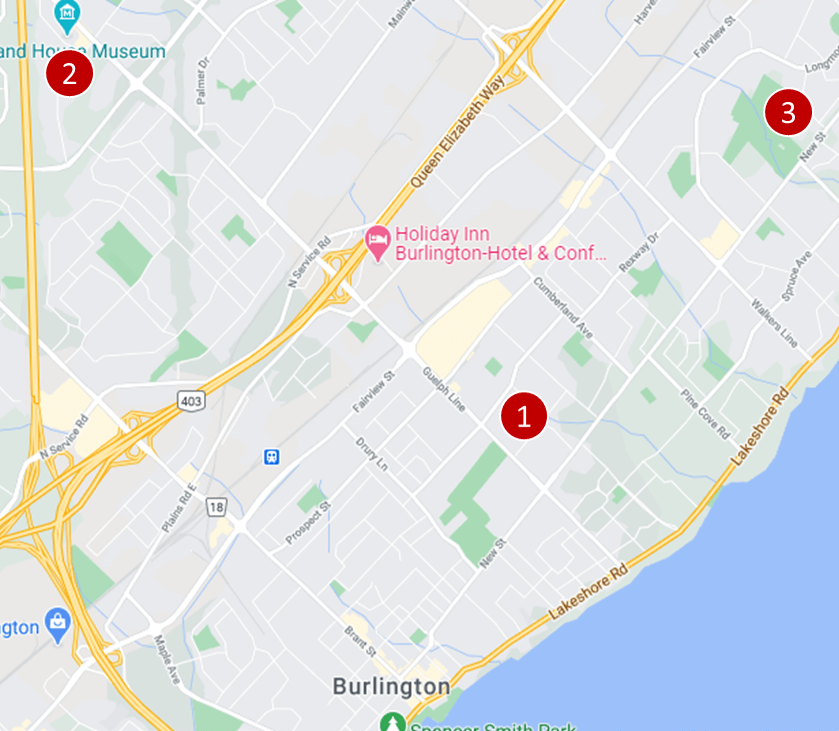 Burlington home insurance quote #1:
Homeowners insurance for a two-bedroom condo in a high-rise building under 1,000 sq. feet. The occupants are non-smokers. The building is located in Dynes on Glencrest Rd.
$26 per month ($312/year)
Burlington home insurance quote #3:
Tenant home insurance for a two-storey unit in a duplex, under 1,000 sq. feet. This home has no garage or basement. Located on the Guelph Line.
$22 per month ($264/year)
Burlington home insurance quote #3:
Homeowners insurance for a two-storey detached brick house about 2,000 sq. feet. This house has a pool, a new roof, a built-in garage for two cars, no basement and the policy is bundled with auto insurance. Located in Longmoor next to Nelson Park.
$81 per month ($972/year)
5 Home Insurance myths to know
Myth #1: Insurance is cheaper for older, less expensive homes
Insurance is more expensive for older homes if those home also have older elements. For example, older home's plumbing is more likely to fail if it has not been upgraded, and the home may come with risky elements like knob and tube wiring or oil heating.
Myth #2: If I am away on vacation, my house is covered
You are not automatically covered during vacation. You must check your policy to see how often someone must visit your home (every 3-7 days is typical). You must also take precautions against burst pipes in the winter. The policy may stipulate that you either maintain the heating schedule and/or shut off the water supply and empty the pipes.
Myth #3: It is fine to overstate the value of the damage
It is never fine to overstate the damage. The insurance company will do an assessment of your claim and can deny it or even cancel your policy if you try to defraud the system. If your credibility is ruined in this way, it will be very difficult for you to get insurance elsewhere.
Myth #4: If I am a tenant, my landlord's insurance covers everything – it is their responsibility
Your landlord is not responsible for your personal liability (for example, if you flood the unit below you, or your contents (for example, theft). A landlord has every right to ask you to secure a tenant insurance policy.
Myth #5: I'm paying for home insurance, so I should make every possible claim under it
Don't forget that your claims have a deductible so if your loss is less than the deductible, it won't pay out. If you are making small claims just over the deductible you can lose your claim-free discount; it can take about three years to requalify for a claims-free discount! If you make too many small claims, you may incur surcharges and not be offered a renewal.
Frequently Asked Questions (FAQ): Home Insurance in Burlington
What does Home Insurance cover in Burlington?
Home insurance coverage is very dependent on the type of policy you choose:
Tenant insurance: is used to cover your personal contents and liability.
Homeowner insurance (condo): is used to cover the condo unit and its associated upgrades (but not the condo building itself). Also included are your contents (for theft, damage, etc.), and personal liability.
Homeowner insurance (house): is used to cover the entire rebuilding costs for your home, and, depending on your riders, a range of natural impacts such as earthquake, flooding, snow damages, trees and garden, landslides, etc. Also covered is liability and additional structures on your land, like your garden shed.
Who has the best Home Insurance in Burlington, ON?
In order to find the cheapest home insurance in Burlington, get quotes from as many different insurers as possible and learn what they offer in terms of coverage levels, deductibles, exclusions, etc. Premiums vary; insurers specialise in different segments of the population. For example, some specialize in working with seniors, others with member organizations like CPA and CAA. Others specialize in certain types of geography or even types of buildings. Our insurance professionals are happy to help you find quotes and answer questions.
Home Insurance in Burlington – Reviews: where to find them?
Our proprietary insurance review platform has collected, since 2012, independent consumer reviews for a variety of insurance and financial products. Click here to access, for free, our collection of insurance reviews.
Our Publications related to Home Insurance
Home Insurance by Location