This home insurance guide for Regina informs you about savings opportunities and also provides number of other useful tips for choosing the best home insurance protection.
What are average Home Insurance cost in Regina?
This chart includes average rates for renter's and homeowner's insurance premiums in several provinces across Canada. Renter's insurance premiums tend to be lower than homeowner's insurance since renter's insurance covers only the goods (and sometimes liability) of your rented property and excludes the value of the rented property itself. Homeowner's insurance, in contrast, includes the value of the property.
Saskatchewan tends to experience fewer liabilities due to disaster risk than other provinces. Saskatchewan does not experience earthquakes (unlike in regions of British Columbia) or massive flooding (as can be the case in Ontario and Alberta). However, frigid winters do present a perennial risk, and pose a danger to freezing infrastructure such as home piping systems, which are prone to bursting in such conditions.
How to save on Home Insurance in Regina, SK: 10 Tips
Heating: Woodstoves and fireplaces always carry with them the potential for fire and smoke damage. Having one means that you will likely need a home inspection prior to taking out a policy, and that additional premiums may be tacked on.
Plumbing insulation: To reduce both the risk of your pipes bursting in winter and the likelihood of insurance claims, ensure your home plumbing is properly insulated.
Wiring: Wiring has changed over the last few decades with advanced production procedures and safety codes. Having approved wiring that is up to code is going to cost less to insure than aluminum or knob-and-tube wiring, and some insurers won't cover these types at all. Insurers who do will typically require a full inspection before offering coverage.
Renovations: You can save on home insurance premiums by taking the initiative to renovate. Home insurance premiums for older homes that are poorly maintained will usually be higher. Even only a partial renovation, such as to your basement or kitchen, may lead to savings on your policy.
Water damages: Hidden water damages can cause major pains down the road, from weakening structures to mold that needs to be remediated. Before purchasing a house, have a thorough inspection done and ask about a history of water damages.
Mortgage insurance: If you already have life insurance, you may already have enough coverage to forgo mortgage insurance. Mortgage insurance covers the outstanding debt on your home in the case of a tragic event, and a term life policy large enough to cover your home debt is usually cheaper.
Hydrants and fire-stations: Inquire about whether proximity to a hydrant or fire station could save on insurance costs.
Alumni: Graduates from Canadian institutions (e.g. University of Toronto, McGill, NAIT) may qualify through certain providers (e.g. TD Insurance) for group discounts.
Annual vs. monthly payments: Insurers save on time, postage and billing when you pay yearly. They extend those savings with lower premiums.
Repair instead claims: Before filing a claim, consider if the cost of the deductible is worth paying to declare a damaged item. Rather than filing a claim and raising your premiums, consider self-repair, or see if you have a handy friend or family member who can help.
5 Elements that will increase your Home Insurance costs
Building frame: Homes with wooden frames are particularly susceptible to structure damage due to fire, and as a result, cost more to insure.
Galvanized or lead pipes: Galvanized and lead pipes have not been installed in new homes for decades, and are more expensive to insure due to the burst risk caused by corrosion and aging. Modern plastic and copper pipes will save insurance costs, and it is worth undertaking renovations to install these safer piping options.
Swimming pools: Pools – particularly those not protected by a fence – present a higher liability to insurers – and this liability can be very costly.
Expensive items: Some premium items will cost more to insure, such as heirlooms, jewelry, art collections, wine collections, musical instruments, and sporting equipment. Often, the value of these items can exceed your coverage limit, requiring a separate rider to insure them.
Business property: If your home doubles as a place of business, insurers will see this as an increased risk of liability. Daycares, bed and breakfasts, and frequent visits from suppliers and clientele will increase your insurance costs.
Regina –  Home Insurance quotes, examples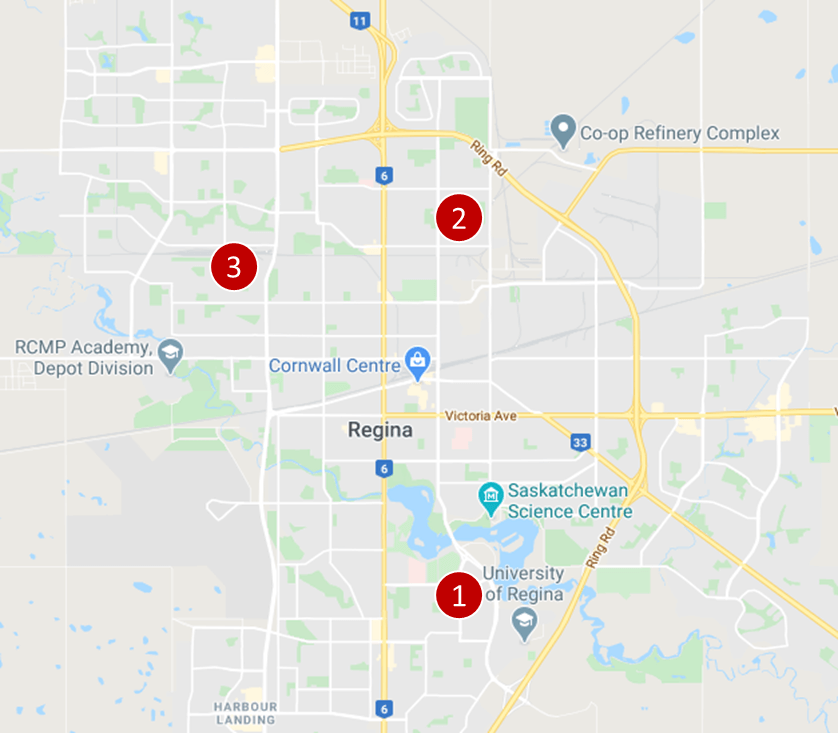 Regina home insurance quote #1:
Homeowner's insurance for a 1-storey detached house, no garage, a half finished basement, under 1,500 sq. feet, located in the Hillsdale neighborhood next to McNiven Park.
Price: $131 per month ($1,572/year)
Regina home insurance quote #2:
Tenant's house insurance for a 1.5-storey detached house under 1,500 sq. feet, no garage, new roof, brick structure, located next to the intersection of 4 Ave. N and Ottawa St.
Price: $35 per month ($420/year)
Regina home insurance quote #3:
Homeowner's insurance for a 2-storey town house (3 units in the house), no garage, no basement, new roof, located in the Transcona neighbourhood next to 3rd Ave Park.
Price: $32 per month ($384/year)
7 Home Insurance, myths to know
Myth #1: You must have home insurance.
Unlike auto insurance, home insurance is not mandated by the government. If your home is mortgage-free, you will not have to take out an insurance policy. However, mortgage lenders reserve the right to ensure that you purchase homeowner's insurance to protect their own interests. A landlord can also ask that you purchase tenant's insurance against theft and liability.
Myth #2: If I have valuables, they are covered.
Standard home insurance policies cover your personal effects and valuables, but only up to a selected limit. Specialty property such as jewelry, heirlooms, and musical instruments will have their own sub-limits, and you have the option of adding coverage for these items onto your current policy. You may need to provide proof of value (such as an appraisal or receipt).
Myth #3: If I have a home insurance policy, I am protected against sewer backup.
Municipal infrastructure tends to be very efficient but can fall short due to events like flooding. During heavy rain and floods, sanitary and storm sewer systems can back up because they cannot handle the influx of water, leading to backups and overflow in toilets and drains.
Most insurers will offer optional sewer backup protection, but it is important to remember that this event is usually not covered by standard homeowner's insurance policies. Check to see if your provider does include it in their standard policy, or if it is available through a rider.
Myth #4: Home insurance pays for required upgrades/maintenance.
Routine maintenance due to normal wear and tear is not covered.
Myth #5: Insurance is cheaper for older, less expensive homes.
Intuition may lead you to think that, since an older home is less expensive, home insurance will be less expensive. It's actually the opposite; because of the increased risk that something could go wrong, the insurance premiums will go up as well. Older houses are more likely to have degraded structures or worn-out piping systems prone to bursting when the temperature plummets.
Myth #6: If I make a home insurance claim, my insurance costs will go up.
Not necessarily. Some insurers won't increase your premium if it is your first claim, or they may eliminate your option for a zero claim discount.
Myth #7: I'm paying for home insurance, so I should make every possible claim under it.
There are a few reasons why this is not a good idea. First, your claim may be subject to a deductible. Second, even if the loss is marginally higher than the deductible, you will lose your claim-free discount if you try to claim the loss, and it takes at least three years before you can qualify for that discount again. Appraise the value of the loss relative to the deductible before making a decision to file a claim. You may be subject to additional surcharges if you file multiple claims, and your insurer may refuse to renew your policy.
Frequently Asked Questions (FAQ): Home Insurance in Regina
What does Home Insurance cover in Regina?
Home insurance coverage in Regina (similarly to other locations in Saskatchewan and throughout Canada) depends on type of insurance you choose – here is a high-level view
Tenant insurance: Typically covers your personal contents and liability
Homeowner insurance (house): Covers the entire rebuilding costs for your property, a wide range of natural impacts depending on your riders (e.g. earthquake, flooding, snow damages, etc.), liability, tree and garden (depending on riders), additional structures on your land (e.g. shed, storage space, etc.)
Who has the best Home Insurance in Regina ?
Different home insurance companies specialize on different segments of customers (e.g. seniors, affiliated members of various organizations such as CPA, CAA, etc.), geography, types of buildings, risk types, etc. In order to find the cheapest home insurance, it is important to get a quote from as many insurers as possible and understand what exactly they offer (e.g. level of coverage, deductibles, coverage exclusions, etc.). Some insurance companies have an extensive experience working with customers from Saskatchewan such as SGI (Saskatchewan Government Insurance). Our insurance professionals can help you with all home insurance questions and connect you with the best providers for home insurance.
Home Insurance in Regina – Reviews: where to find them?
Our proprietary insurance review platform has been collected independent consumer reviews for different insurance and financial products since 2012 and has thousands of insurance reviews. Click here to access for free all home insurance reviews.
Our Publications related to Home Insurance
Home Insurance by Location